Review writen by:
Kerry
Title:
Racing to Love - Carter's Treasure
Author:
Amy Gregory
Genre:
Contemporary Sports Romance.
Part of a series:
No.
Length:
214 pages
Format:
Kindle Edition
ISBN/ASIN:
B0089G3T3W
Publisher:
Sapphire Star Publishing
Release Date:
June 5th 2012
Where I got this book:
Free as part of the tour in exchange for an honest review.
From the outside, Molly West had everything, beauty, brains, and a career she'd retired from not once, but twice. Being in the limelight and in a sport that was male driven, she was often surrounded by men. She ignored first the boys, and as she got older, the men. Her cold shoulder and patented not a chance in hell look were usually enough to get her point across. Molly had no plans in changing what was a perfectly good system. That is until she walked into the pits. Carter Sterling had traveled the racing circuit since he was a boy. He'd heard all the old standbys, She's out there somewhere, love comes along when you least expect it. Good things come to those that... Yeah, he'd heard them all. The last place he expected to meet the love of his life was on a pro track. All she did was smile, and he knew, looking into her sapphire blue eyes, Molly West was his. Forever. If it was only that easy. From the moment he laid eyes on her, he had a gripping feeling in him. An overwhelming need to protect her-a girl he'd just met. Carter had learned a long time ago that gut feelings are almost never wrong. Molly now held his heart in her hands, but it was going to take a lot more than just love to protect her from the past she thought she'd buried a long time ago.
Author Bio
Amy Gregory leads an incredibly active lifestyle in Kansas City with her husband and their three fantastic kids who keep them running in three very different directions. When she's not rushing her oldest daughter to tumbling, her youngest daughter to music lessons, or sitting track-side watching her son practice motocross, she's taking the few minutes in between to scribble the next pages in her Racing to Love series.
When asked, "When do you have time to write?" Amy Gregory giggles. "In bits and pieces," she says.
Amy is known for her snarky, off the cuff sense of humor, which you'll find shining through in the characters she's created. Her debut novel, Racing to Love, Carter's Treasure, is set for release June 7, 2012.
I've spent my whole life trying to figure out what I want to be when I grow up, and now I've finally found it. – Amy Gregory
Blog
Twitter -
@AmyGregory548
Links to Buy
Amazon
Here is a short taster, keep reading to see what I thought of this book!
They continued to walk back toward the pits, but he stopped when they were in the darkened hallway, just before they would have rounded the corner and been seen.
Molly's heart sped.
He was still holding her hand, but turned to face her as he placed his other hand on her waist. She sucked in a breath when he stepped forward. Her first instinct was to be anxious, to cower back, but something in those ice blue eyes told her she didn't have to be afraid.
When he had leaned in to kiss her when they were sitting on the track, she'd panicked. And then when he had started to move away, she'd panicked again—for a different reason entirely.
Those flip-flopping emotions were about to drive her crazy.
Now, in the dimmed corridor, Molly closed her eyes to catch her breath and to search for a decision. He'd been rubbing his thumb on her waist, but his movements stopped when her eyes dropped closed. The soothing strokes didn't continue until she finally reopened her eyes and dragged her attention up his chest and past his Adam's apple. She continued up until she locked her gaze with his. When she offered him a hesitant smile, he began stroking her again with a warm smile on his lips.
Staring down at her, he let go of her hand and skimmed the back of his over her cheek. She felt her heart thundering, her pulse racing when she ran her hands up his chest, feeling each and every rippled muscle. She'd never purposely touched a man like this before. Sure, she'd felt Brody's muscles when she'd smacked him for one reason or another. Or when trying to push him off of her after he'd wrestled her to the ground being an ornery brother and all. But this? This was foreign.
Her eyes were back on her own fingers, taking everything in. She stopped at his heart and could feel it pounding hard beneath the soft cotton t-shirt.
"Just so you know…" he started in his slow, sexy voice.
She could tell he was waiting for eye contact again before continuing. "Yeah?" she whispered.
"I'm going to fall in love with you."
My Review
I was not sure what expect with this book because I am not much of a sports fan but I found I didn't need to be. The fact the people in the book were athletes was a side issue really, the relationship that grows between Molly and Cater is what takes centre stage. Now I have to admit after reading the short prologue I was hooked, and watching this story unfold was a real pleasure. It was sweet and funny but with a little edge and when that edge got sharp it was fantastic! I did guess who the bad guy was but not why they were doing what they were doing, I am trying really hard here not to add spoilers. This is a romance first and foremost so I really liked that the suspense aspect was dealt with and then we got the rest of the storybook romance between Molly and Cater I really liked that the focus was never taken away from that. I will defiantly be looking out for more by this author as she writes strong characters that are not only believable but sexy hell too!!
My Rating:


Thank you for visiting my tour stop and reading my review, I hope to see you again soon!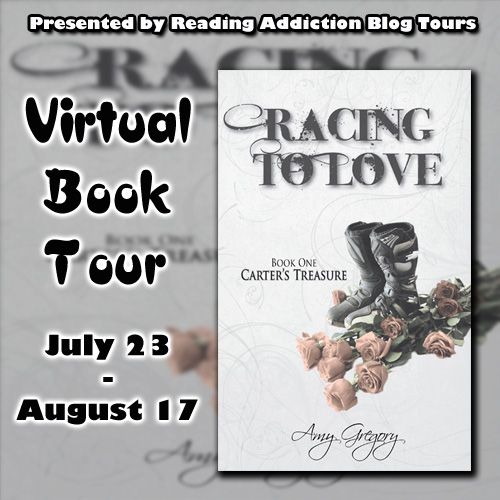 *Disclosure of Material Connection: I am a member of Reading Addiction Blog Tours and a copy of this book was provided to me by the author. Although payment may have been received by Reading Addiction Blog Tours, no payment was received by me in exchange for this review. There was no obligation to write a positive review. All opinions expressed are entirely my own and may not necessarily agree with those of the author, publisher, publicist, or readers of this review. This disclosure is in accordance with the Federal Trade Commision's 16 CFR, Part 255, Guides Concerning Use of Endorcements and Testimonials in Advertising*