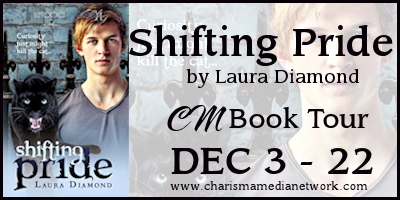 Title:
Shifting Pride
Author:
Laura Diamond
Genre:
YA Paranormal Romance.
Part of a series:
Yes I hope so!
Length:
300
Format:
Ebook
ISBN/ASIN:
B00AJW1UQM
Publisher:
Etopia Press
Release Date:
November 2012
Where I got this book:
From charisma Media as part of the tour.
Sixteen-year-old Nickie Leone has proof that her missing (presumed dead) father is still alive. Receiving his watch in the mail is the first in a line of clues bringing her closer to discovering his whereabouts. But clues aren't the only new thing in Nickie's life. There's the Memorial Banquet her mother insists she help prepare for, there's the new kid/hottie, Xavian, and...well, the growth of whiskers and a tail!

Filled with secrets and a new love of tuna fish, Nickie must partner up with Xavian (don't you know he's a shapeshifter too?) to rescue her dad before she loses him forever. Oh, and she needs to figure out how to be a cat, too.
My Review
I was really impressed with this book, I was expecting an insipid story that was predictable and that is not what I got. It was billed as if you like twilight your like this and I think this sells the story short as it is a complex and exciting story with a credible love story mixed in.
This really a story about a girls fight to find her missing father and it pulls you right in from the very first page. This might be written for the young adult market but I am a long way from young and I loved it and I don't usually like YA books, I tend to find the language used annoying and juvenile (Yes I know YA books are written for juveniles so the language is going to reflect that) but this one treated the reader as if they had real intelligence and this is what makes this book work for the older market too. There are points in the story where I was on the edge of my seat holding my breathe and just not able to put my Kindle down, and I have to say although I got this book as a ARC as part of a tour i would happily buy this book and recommend it to all those who thought who want a great story that will keep you wanting more and I know this will go on my re-read list as a go to book when I am in a reading slump. This book would get anyone excited about reading again so go read it!!
My Rating:
I really liked this!

Thank you for visiting my tour stop and reading my review, I hope to see you again soon!