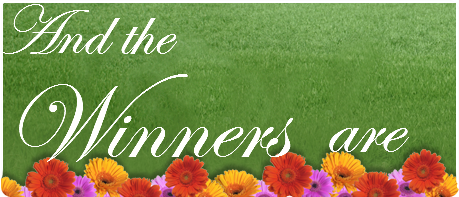 Well another month gone and another give-away ended. This one was very special to me, not only because I was able to give-away a really fantastic prize of a signed Lara Adrian book and loads of other goodies, but because I celebrated my birthday with all of you. So thank you so much for making it so special and I hope all of you will come back for this months give-aways.
So who are the 12 luck people ..........
And the winners are........
Entry #190Debbie M.
Entry #49Natalie C.
Entry #114Saundra M.
Entry #9Melissa M.
Entry #179Azrael R.
Entry #3Kat
Entry #21Nicole L.
Entry #6Ruth B.
Entry #14Soma R.
Entry #147Sharon M.
Entry #43Kim J.
Entry #81Jennifer B.
All the winners have been emailed and have 72 hours to reply or new winners will be picked. As there are so many winners this month the prizes will be sent out in stages because the postage is paid for my me. So winner please be patient and I will let you know as soon as your prize is in the post!!