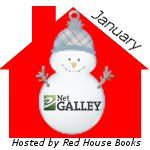 January is declared NetGalley month.
So what am I in for you ask?
well what I am in for is Red House Book's 4th NetGalley Month Read-A-Thon!
Between January 1st and January 31st, I am challenged to read as many NetGalley books as I possibly can!
Want to join in!
The 'rules' are really simple:
Write up a post, share it on Facebook, Tweet, let the world know you're participating and link it up by clicking this link to Red House Books and adding your name.
2. Read NetGalley books in January!
And tell us about them in February :)
I am going to aim high and say I will attempt to read 15 NetGalley book in January, how many will you read!!
I will put a link to each of the review of the books I finish so everyone can see how I do.
If you want to keep track of how everyone who is taking part is doing check out the hashtag #netgalleymonth on twitter!!
OK off to a slow start but here is the start of my list of NetGalley book I have read this month.
Christmas in Lucky Harbor.
Head over heels
Honoured Vow
Unshakeable Faith
Touch me
His Secret Past
Escape Velocity
Sex Lies and Surveillance.
The past came Hunting