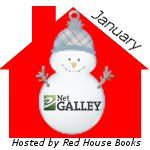 January was declared NetGalley month round up.
Between January 1st and January 31st, I was challenged to read as many NetGalley books as I possibly could!
I aimed high and said I would attempt to read 15 NetGalley book in January.
I got off to a slow start and didn't get to 15,
I admit I got side tracked with some erotic short stories and went a bit mad buying and reading loads of them this month.
My reading total for January is 31 books.....
but only 9 of those were NetGalleys.
This was a lot of fun and if I am very honest I am a little disappointed that my NetGalley total is not higher but I kept just saying to myself "just one more then I will read a Netgalley one" the only problem was I didn't specify which was the one more!! The question of the hour is.. would I do this again?? Yes absolutely I would, there is something very appealing to me about reading for a challenge I can get very competitive and, as I found with the shot stories, I can get very obsessive too. So I guess the next time I sign up for a reading challenge that is for a specific type of book, like this one, I will have to be better prepared and not get side tracked but who I am I kidding I loved reading all those book this month the fact they all weren't NetGalley books doesn't stop being thrilled I read 31 books in one month!! would have been so cool if I could have said they were though wouldn't it!!
Here are the links to the reviews.
Christmas in Lucky Harbor.
Head over heels
Honoured Vow
Unshakeable Faith
Touch me
His Secret Past
Escape Velocity
Sex Lies and Surveillance.
The past came Hunting